LED Conversion- Efficiency for All of Your Needs
Does the harsh light and buzzing of your florescent bulbs give you a headache? Do you want to save money on your energy bill every month? If so, converting your CFL to LED can give you superior lighting, lower energy consumption, and longer life compared to other types of light bulbs. As florescent bulbs become rarer, LED conversion of your existing lighting can save you hassle and money over the long term. Call the experienced professionals at Noon Electrical Services to see if LED conversion is right for your home or business!
What is LED Conversion?
LED Conversion is the process of changing your existing lighting to LED lighting. This can include changing out all existing fixtures to new fixtures which is the simplest process. Love your current fixtures and don't want to upgrade them? That's ok. LED conversion can also include converting your existing fixtures to accept LED lighting.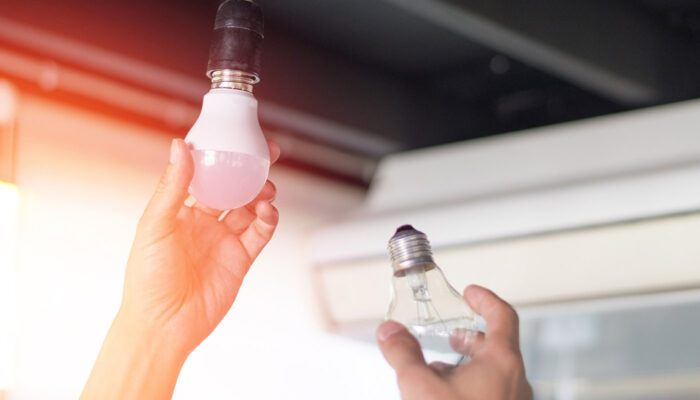 Benefits of LED Conversion
Energy Efficiency- LED light bulbs use only a fraction of the energy that florescent or incandescent bulbs do. Converting your lighting to LED can save you money on your monthly energy bill.
Superior Lighting- With the ongoing advances in LED technology, you can now get LED bulbs in all levels of light output and warmth of color. Lighting can make a huge difference in the feeling of your space and LED lighting has the most options of anything currently on the market.
Longer Lifespan- Feel like every time you turn around, you need to change a burnt-out light bulb? That is no longer a worry with LED lighting. Many LED lights can last years of regular use without needing to be changed. Save yourself the headache and help the environment with LED conversion.
Noonan Electrical Services prides itself on delivering high-quality products at exceptionally affordable pricing. Our professional installation teams have years of experience tackling some of the most unique and complex challenges in the electrical industry. No matter your home's electrical situation, Noonan Electrical Service can install home automation in your home or business.
Contact Us today for a no-cost estimate and let us provide the convenience and comfort you deserve.