Home Automation – Convenience and Efficiency for All of Your Needs
Are you looking for a way to make your life easier, as well as provide security for your home and family? If so, the installation of a home automation system by the experienced professionals at Noonan Electrical Services is your answer! Smart home technology can provide a comprehensive smart solution to all of your needs. Whether you want the ability to remotely control and monitor your home systems, enter your home without keys, or record who comes to your door with a video doorbell, making your home a smart home can offer many benefits."
What is Home Automation?
Home automation is the networking of devices and appliances that gives you control over all aspects of your home environment. From the touch of a finger, or a voice-command to Alexa, Siri, or a Google Assistant, you can turn on lights, adjust the heat, monitor for water leaks and much more. By integrating different technologies, the professionals at Noonan Electrical can provide the convenience you desire. It can also provide additional energy efficiency and security for your home. Protect your family and your home investment by installing home automation today!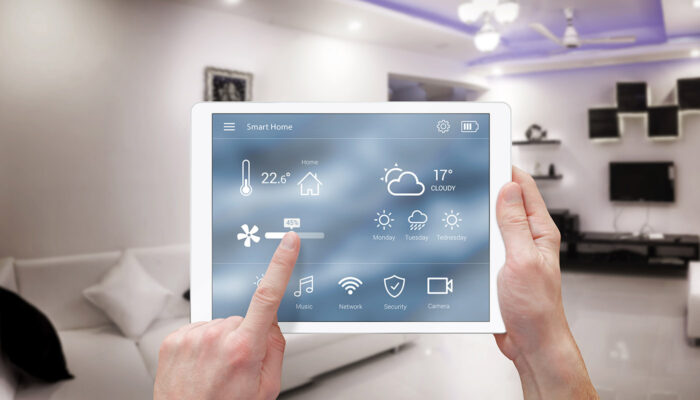 Benefits of Home Automation
Convenience – You can change the settings of your home systems with the touch of a button or a simple voice command. Unlock your doors or turn up the heat before you even reach the door by integrating smart technology.
Efficiency – Lowering the temperature of your home and turning off lights can help with your energy consumption. Program your thermostat to turn down while you are at work with home automation and save money on your heating bill every month.
Safety – Smart home technology can help protect your family by constantly monitoring your home systems. From carbon dioxide to water leaks, home automation makes sure that you know exactly what is going on in your home at all times.
Security – Keep an eye on your home and possession even when you aren't home through smart technology. Smart cameras, doorbells, and even smart locks can protect your largest investments at all times.
Home Value – Savvy homeowners are always looking to maximize the value of their home investment. Home automation can be a large selling point when it comes time to put your home on the market.
Noonan Electrical Services prides itself on delivering high-quality products at exceptionally affordable pricing. Our professional installation teams have years of experience tackling some of the most unique and complex challenges in the electrical industry. No matter your home's electrical situation, Noonan Electrical Service can install home automation in your home or business.
Contact Us today for a no-cost estimate and let us provide the convenience and comfort you deserve.